serving local families
Since 1995
Power Play Sports was founded in 1995 by local ski & hockey bums and sports enthusiasts Rob Maynard and John Connell.
Seeing a need for a ski/hockey shop to serve local families and be a re-sale outlet for good used gear, the guys got their start one fateful boxing day in Morrisville. After bouncing around several downtown locations, (but always residing downtown) the store landed at it's current location 35 Portland Street, the old Jones' Jewelry building.
Shortly thereafter, John experienced a family tragedy and Rob took on full ownership. A few years later, a young Hyde Park native named Caleb would convince Rob he was a great addition to the staff. The 17 year old excelled until his eventual departure for a college education in Boston. In 2010 Rob's long time manager Nate left the company for a job at Concept 2. Rob was itchy to commit to his Sugarbush full time. Caleb returned to VT and began managing the store hoping to buy it. Rob sold the business to Caleb in the fall of 2011 and Power Play began a new era. In 2012 we lost John in a tragic accident, a big hit to our sports community. But part of his legacy as well as Rob's lies in the store still located in Downtown Morrisville called Power Play Sports.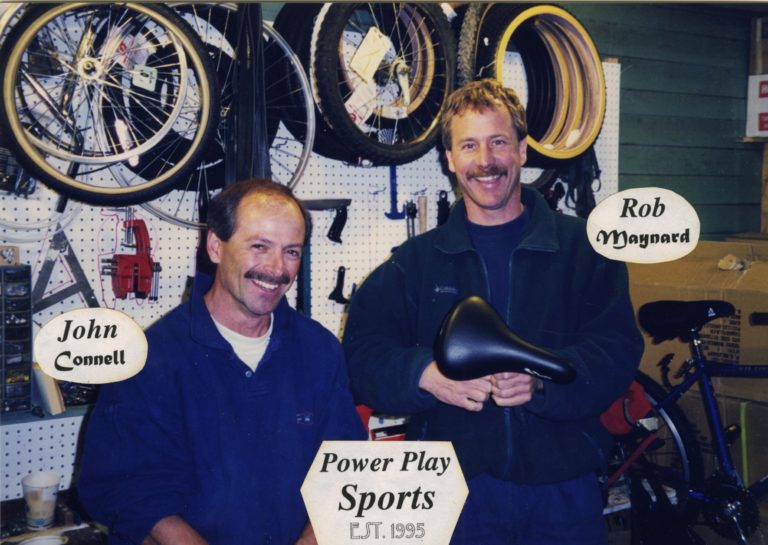 PPS has been owned by Hyde Park resident Caleb Magoon since 2011. Caleb worked at the shop as a teenager and bought the business from his friend and mentor Rob Maynard. With a mission to support the local sports community as well as visitors to the area, PPS aims to be a cornerstone of the local recreation scene. Known mostly as a family shop, the staff strives to provide a warm, inviting, friendly environment to equip you and your family with gear. As the only resale sports store in the area, PPS is a great place to buy, sell, trade or consign both new and used gear. As a classic small town store, visiting PPS is a unique experience to share your sporting adventures with people that care.